We supply a complete line of replacement parts, intake and exhaust filters for our Spray Booths.
From door handles to motors and fans, Future Cure can in most cases have the parts shipped the same day. If we don't have the part you need in stock it's no problem we can get it for you and have it shipped directly to your shop.
Future Cure O.E.M. Intake and Exhaust Filters are a back loading design to allow proper air flow for optimum booth balance and have a longer life cycle.
Future Cure O.E.M. Gasket seals are made from a custom formulated TPV compound for long service life and designed to fit for an air tight seal
Both filters and gaskets are in stock and ready to ship.
To Order, Call: 203.438.2400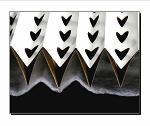 THE ANDREAE STANDARD AND HIGH EFFICIENCY FILTERS are designed to capture any wet solids or liquid particles in an air stream: high solid enamels, baked and air dried enamels, glues, oils, stains, lacquers, fiberglass, epoxies, asphalts, clear coats, tar, teflon, etc.

A.J. Dralle's auto body products enable shops to provide customers with top-quality paint finishes. A. J. Dralle's ceiling and intake media and exhaust filters meet or exceeed filter specifications.They are the only North American distributor of Volz Filter medias,the highest quality paint booth ceiling diffusion media available.